Noche de regreso a la escuela / Back to school night
Los esperamos con emoción a la Noche de Regreso a Escuela el 17 Sep., a las 6pm/ We are looking forward to Back to School Night on Sep.17 at 6pm.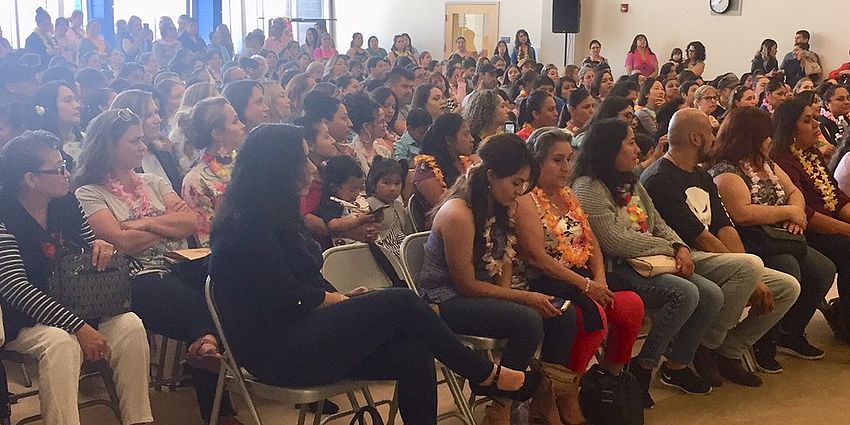 La Noche de Regreso a la Escuela de Sherman Oaks será el 17 de Septiembre a las 6:00pm.  Es una oportunidad para compartir lo que hemos estado aprendiendo y para compartir nuestras metas de este año escolar a medida que nuestros estudiantes avanzan en su camino hacia el bilingüismo.  A las 6:00pm, los padres se reunirán en el edificio de Multiusos para una breve presentación con el director. Después de esta breve presentación, habrá dos sesiones, ya que algunos de ustedes tienen más de un estudiante y planean ver ambos salones. Primera sesión: 6:15-6:35pm. 2da sesión: 6:40-7:00pm.
Los maestros y maestras compartirán algunas de las expectativas que son específicas para el salón de clases de su hijo/a, las metas del año escolar y tener otra oportunidad para conocerle.
Les pedimos de favor respetar nuestro estacionamiento limitado y ver otras opciones de transporte o estacionarse en calles cerca a la escuela.
¡Los esperamos!
The Sherman Oaks Back to School Night is on September 17th at 6:00pm.  It is an opportunity to share what we have been learning, and share our goals for the year as our student's move forward on their path towards bilingualism.  At 6:00pm, parents will gather in the Multi-Use building for a brief introduction with the principal. Following this brief presentation, there will be two sessions, as some of you have more than one child and are planning to see both classrooms. 1st session: 6:15-6:35pm. 2nd session: 6:40-7:00pm.
Teachers will be sharing some of the expectations that are specific to your child's classroom, goals for the year, and having another opportunity to get to know you.
Please be respectful of our limited parking and plan to park in the surrounding neighborhood, or plan to use other forms of transportation.
See you then!